Icade Flat buyers user journey
19 Mar 2016
Focus group, interviews, Service design, User journey
Duration | 2 months (2017)
Icade, a real estate group that sells flats bought off plan needed to improve their customer experience as part of their digital transformation. No more paper communications. The idea was to introduce a personalized website for home buyers that would allow them to follow the construction of their home. (videocam, milestone notifications, etc). Icade contacted Attoma to conduct research to obtain insights on features desired by buyers .
I  established a research methodology, and working hand in hand with a UX researcher, we conducted three focus groups and 18 interviews of different profiles in different region of France. Leveraging our new understanding I created user journeys including buyer needs, pain points, touchpoints and tasks.  The user journey was well received by the client as were our recommendations. I successfully demonstrated the transformation of the research phase into actionable recommendations.
A few weeks after the presentation, a digital agency handling the future development was able to prioritize a list of features to work on.
Deliverables
2 user journeys
1 recommendation document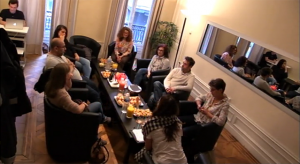 Illustrations
Three focus groups were held. My role was to organize and prepare the question guide assuring that the output would be in line with the client's expectation.