Orange Live Objects IoT Platform
9 Nov 2016
Agile methodology, Design system, Personae, Sprint, User journey
The telephone network, Orange has created an IOT platform to enable customers to monitor and manage devices. Live Objects connect to peripherals such as car sensors, telephones, etc…but the portal was suffering from a lack of activity due to complicated user experience. And you can't improve what you can't measure. 
Drawing all stakeholders together, I lead on the co-design workshops, initiated by Attoma, where three personae emerged and were used to define a clearer picture of user needs and pain points. A common product vision was then integrated into the refreshed product roadmap.
Information architecture was reworked, on-boarding principles were introduced (progressive disclosure, contextual help, etc) and then we co-designed new features (alarms, notifications, devices groups, etc. My UI Designer colleague, Camille then completed  the project by designing the interfaces. 
Bringing user experience to the center of a previously tech-orientated team has proved successful to the client's business model. Orange then briefed us to deploy our Design Principals to other platforms, introducing a new Design System.
Deliverables
High fidelity prototyping.
In order to help developers in their integration we delivered all our screens with Zeplin, a fabulous tool that generates dynamic specification.
Illustrations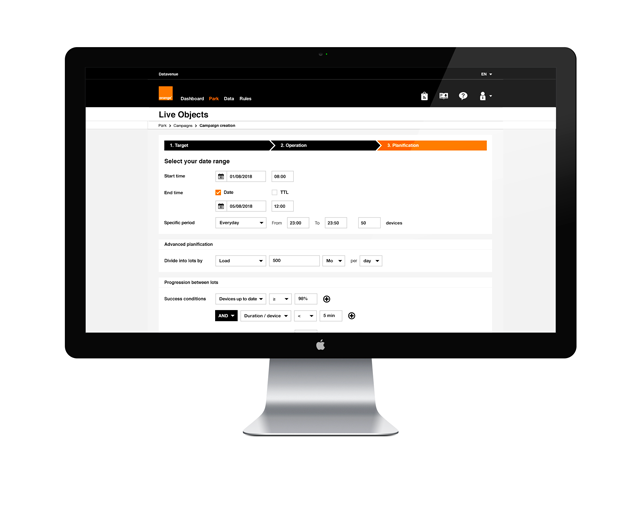 For complicated and long process we introduced the progressive disclosure principle.
Here we see the creation of a campaign, planned operation for your devices such as firmware updates for example.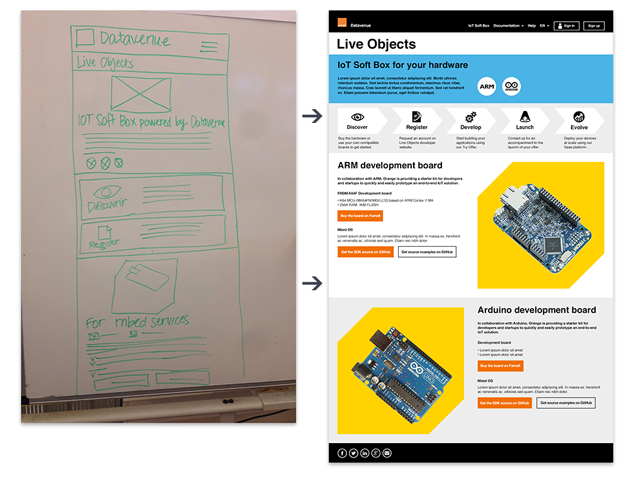 We reviewed the user stories that our client supplied, then organized a co-design session with product owners,  developers and marketing staff. I lead the the co-design workshops where we aligned everyone on a similar vision designing for both marketing needs and user experience.